In making the Studio Photos, it is not difficult, we simply provide the room with a size of 3 × 4 meter. While the camera we can using SLR cameras, or DSLR camera. Then prepare lens 35-70mm lens (depending on the object as well). Lighting room could try Broncolor, Hensel, Bowens or other brand.
To overcome the huge costs in preparation for the Lightning, we simply use a lamp with a softbox made of Styrofoam.
Then put a white styrofoam on the right, left, and over the object, then point the light to one Styrofoam, which serves to give the effect of reflection / or the effect of soft light into the object.
If the object reflects light, put styrofoam on the back side and front of the object, to avoid the effects of light excessive / over exposure.
If it does not have a flash meter, check the product photography lighting studio has a guide number how many, usually light with GN-80, set the maximum and with a distance of 1-2 meters from the object, f / number 11-16 or bracketing just to be safe from f / number 8-16.
For other additional tools if we want to develop to be more pro studio, we can prepare:
- 3 units of studio lights: 750 watts, 500 watts and 250 watts.
- Refletor 2 units (such as bowl for retaining / umbrella adapter).
- 3 Stand lamp manfroto
- Boom Stand manfroto 1 unit ( Buffer similar letter "T" existing ballast, works for top lighting, or used to shooting table top).
- Umbrella reflector at least 2 pieces (standard). For basic umbrella there are 3 types :

1. Outside black, inner silver : harsh lighting effect
2. Outside black, inner white : a bit softer effect
3. Outside slightly translucent white, inner white : soft lighting effect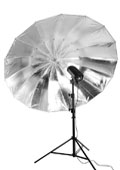 - Softbox 1 unit: 60X90 or 100X120 brands chimera or other brands.
- 1 Snoot to fill in, or directional lighting effects.
- 1 Set table top.
- 1 Set background stand.
- 1 Unit lightmeter : Minolta / Sekonic.
- Some kind of background Photos Studio.
Thats it, now you can have your own photo studio :D